While Algeria is unlikely to make it to the next round, their cuisine is here to stay in my kitchen.
Even though France has the nasty habit of poaching off Algeria's best football players (Zinedine Zidane, need I say more?), Algeria is playing much better than the country they gained independence from a few decades ago. In retaliation, Algerian cuisine tends to borrow as heavily from French cooking as France does from Algeria's football talent.
A fascinating blend of Middle Eastern and Mediterranean cuisines, Algerian foods create dishes similar to my Spanish favorites but with intricate layers of spices more suited to my chile-loving New Mexican palate. Today we prepare a traditional North African Tagine with Merguez, Algeria's well-renowned lamb sausage. Typically served with khabz, an Arabic flatbread, we chose the Serbian version, Lepinja, as we move into the Round of Leftovers.
An Australian Chardonnay, such as the Grosset Piccadilly with its generously buttery notes of melon and peach, enhances the complex flavors of the Tagine while taking the edge off the spice.
Algerian Merguez Tagine
If you cannot find Berbere spice blend, you can make your own by grinding equal parts chile, ginger, cloves, coriander, allspice and cardamom. It is a wonderful spice blend to have in the pantry for use in everything from marinades to popcorn.
1 lb Merguez, thickly sliced
3 cloves garlic
1 large onions cut into chunks
2 tsp Berbere spice blend
1/2 tsp Turmeric
Pinch of saffron threads
2 Yukon potatoes cut into chunks
2 carrots cut into chunks
1 C vegetable stock
1/2 C white wine
1 cinnamon stick
1 can cooked chickpeas
1/4 C dried apricots
1/4 C dried dates
Oven: 400F.
Sauté the Merguez in oil to brown, then add the onions and cook until golden. Add the spices and simmer until fragrant, ~3 min. Add the vegetables and sauté a few minutes. Add the stock, wine, chickpeas and fruit. Cook 1 hr, adding liquid, water or stock, if necessary.
For Lepinja, see Sunday 6/13 for Serbia v Ghana.
Germany v Ghana
When someone suggested I make a German Chocolate Cake for today's game, I giggled and explained that it would be more representative of Team USA than Team Germany as the recipe originated in 1950's Texas and was named after a certain Englishman of the surname German who happened to create the ever popular supermarket baking chocolate. Though derived from German's Baker's Chocolate Cake, the 's was dropped and many a potluck was graced with its presence. The Black Forest Cake, on the other hand, or Schwarzwälder Kirschtorte, is purely German, originating in the Black Forest region of Germany known for its sour cherries and the cherry liqueur known as Kirschwasser. I've never prepared a Black Forest Cake as I'm not a fan of the cherry topping, but when the idea of mixing this classic German pastry with a traditional Ghanian dessert came to be, I figured I'd give it a go.
Schwarzwälder Ghanatorte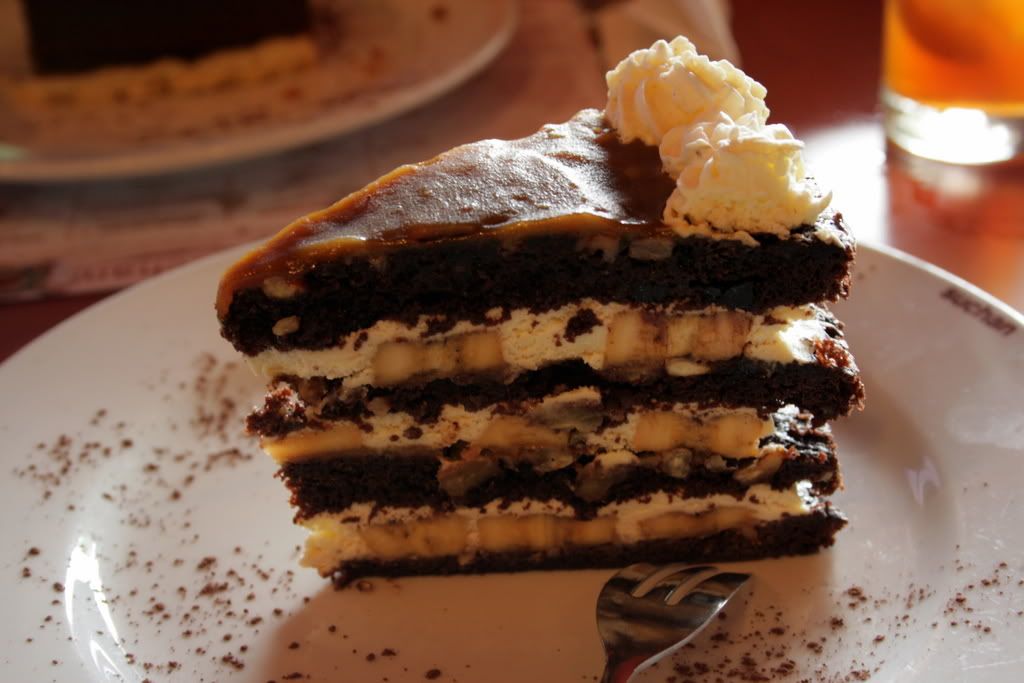 Prepare the cake:
4 eggs, separated
1/4 tsp salt
1 C sugar, sifted
1 C plain flour
1 T cocoa powder
1/2 tsp cream of tartar
1/4 tsp baking soda
Oven: 350F
Grease a 9 in round springform pan. Sift flour, cocoa, cream of tartar and soda. Beat whites and salt until foamy. Gradually add sugar and beat until stiff peaks. Beat in yolks one at a time. Fold in dry ingredients gently in batches. Bake for ~35-40 min.
Photo: Photobucket Lotsacravings
Bananas Ghana
8 bananas, sliced
1/4 C brown sugar
1 tsp cinnamon
1 C orange juice
3 T Apricot Brandy
Blend the sugar and cinnamon. Dip the bananas in the cinnamon sugar until well coated. Place in a casserole and cover with orange juice and brandy. Bake at 350F for 20 min. Top with shredded coconut and sour cream sweetened with brown sugar.
Ganache:


1/2 C dark chocolate, coarsely chopped




1/2 C cream




Warm the cream in a saucepan over very low heat then add and melt the chocolate until smooth. Let cool to room temperature. Beat until soft and pale.


Crème Chantilly:


2 C cream




3 T sugar




1 1/2 T Apricot Brandy




Beat cream, sugar and kirsch until stiff.


Assembly:


Cut the cake into three layers. Brush each layer with brandy. Then layer alternate rings of ganache and Bananas Ghana. Repeat with the next layer. Place the final cake layer on top and coat the top with ganache. Frost the sides of the cake with Crème Chantilly and pipe rosettes along the rim of the top. Decorate with bananas and chocolate curls.
HEY! We've seen that cuisine before!
Prefer to eat out instead? Our Dining Guide tells you where and why.